Hey there, lovely readers! Today, I want to take you on a journey through my sustainable crafting process, focusing on 3 particular gems in my collection – our upcycled scrunchies, mini key fobs, and mini drawstring pouches.
The Art of Upcycled Scrunchies
Ever wondered what happens to those delightful fabric scraps left over from larger projects? Well, wonder no more! I believe in the power of repurposing and bringing new life to these remnants. Our upcycled scrunchies are a testament to this commitment. Each scrunchie is lovingly crafted from carefully selected fabric scraps, which means that every piece you adorn in your hair comes with its own unique tale to tell. It's not just a scrunchie; it's a piece of sustainable art that you can proudly wear.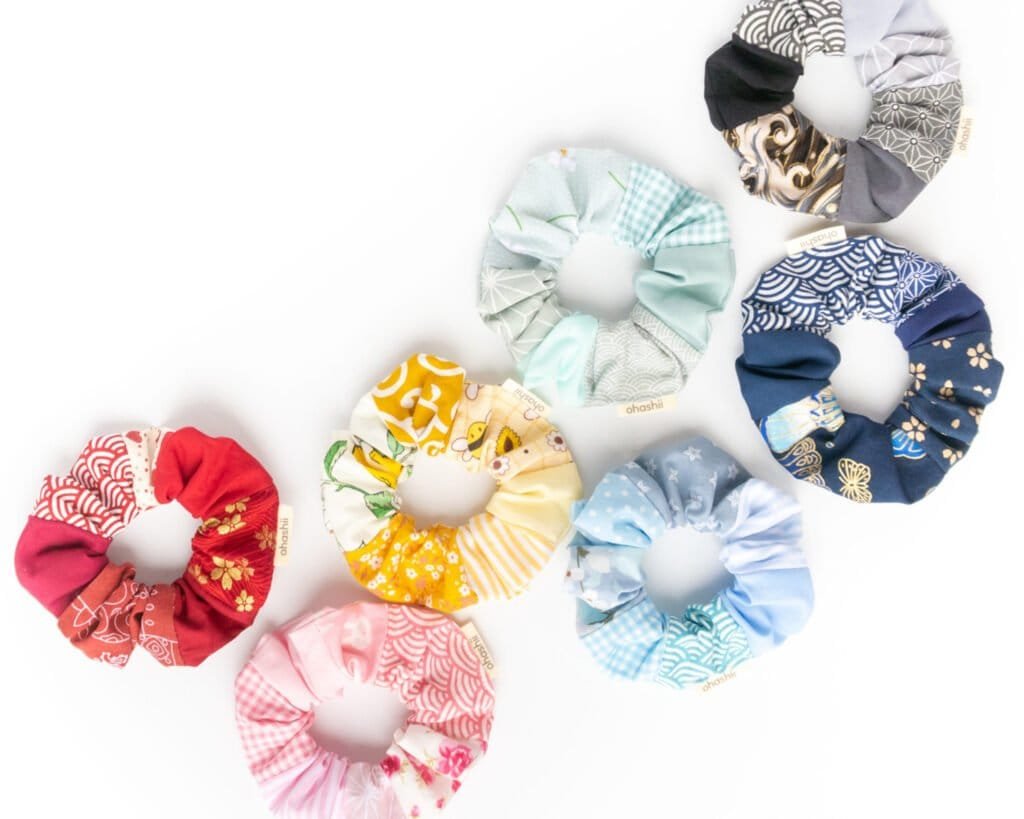 Small Accessories, Big Impact
While our upcycled scrunchies steal the show, our range of small accessories deserves its own moment in the spotlight. From mini key fobs to other delightful trinkets, these are not just accessories; they are tiny expressions of our dedication to sustainability. Crafted with the same level of care and attention as our larger pieces, these accessories prove that eco-friendly living can be effortlessly chic and stylish.
Mini Drawstring Pouches: Perfect for All
Our mini drawstring pouches are perfect for small accessories, pet treats, and more. Much like all our creations, these pouches encapsulate the very essence of sustainability, seamlessly blending functionality with a hint of eco-conscious sophistication. They come in an array of enchanting Japanese patterns, ranging from elegant to kawaii, and are available in both double drawstring and toggle drawstring styles.
The Heart of Sustainability
Now, let's talk about the heartbeat of our sustainable approach. As a one-person operation, I'm deeply connected to every step of the crafting process. I meticulously design, sew, and package each item, ensuring that no detail is overlooked. This hands-on approach enables me to minimise waste, utilise materials efficiently, and create pieces that are made to last – a true embodiment of eco-friendly living.
Join the Movement
Choosing handmade Japanese fashion from my small business isn't just about acquiring a beautiful piece; it's about becoming part of a movement that champions sustainability, creativity, and conscious consumption. With each scrunchie you wear or accessory you flaunt, you're making a statement – a statement that supports eco-friendly practices and celebrates the beauty of unique, handcrafted pieces.
So, here's to embracing sustainable style, one upcycled scrunchie, mini key fob and drawstring pouch at a time. Thank you for joining me on this journey, and remember, each purchase you make contributes to a more environmentally-friendly and stylish world ♡